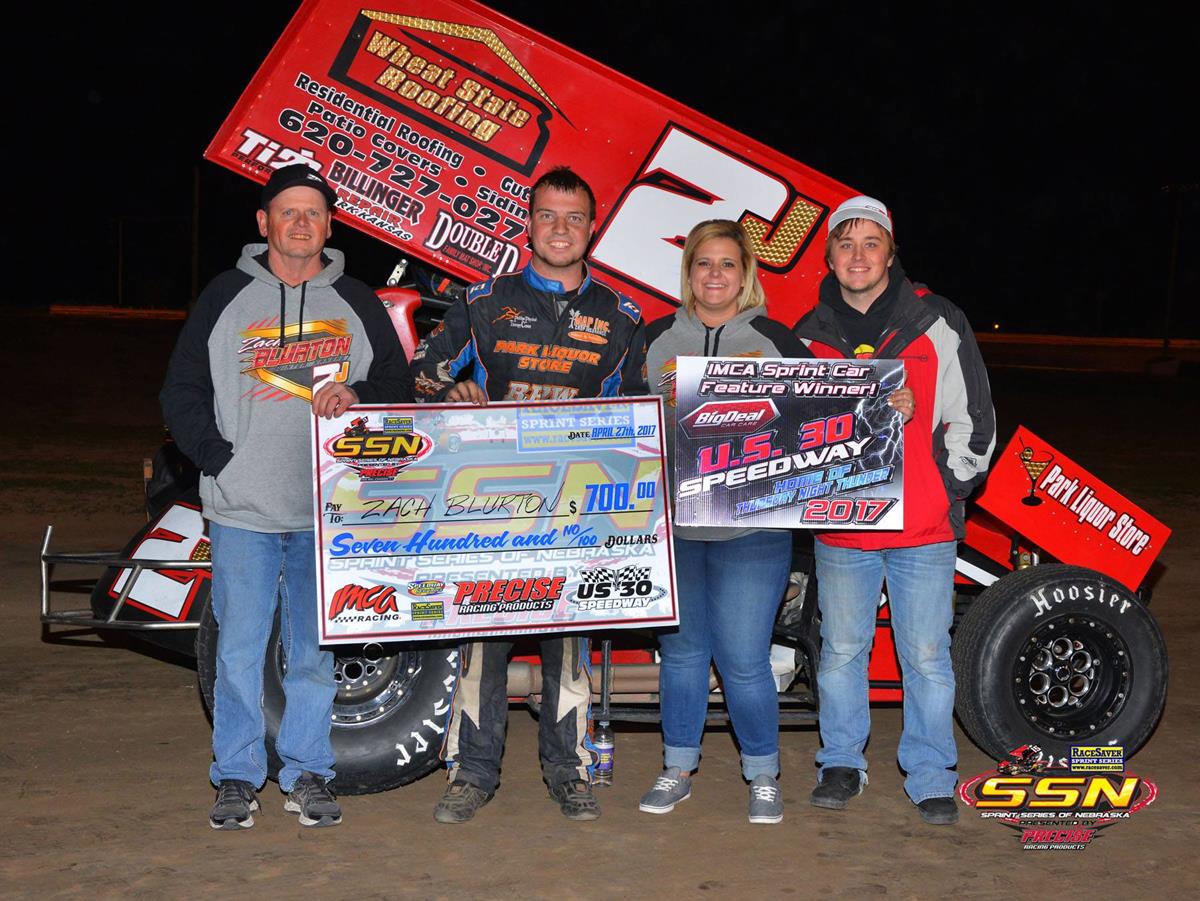 5/2/2017
Inside Line Promotions
---
Blurton Records First Feature Victory of the Season at U.S. 30 Speedway
(Photo by Joe Orth Photos)
Inside Line Promotions – COLUMBUS, Neb. (May 2, 2017) – Zach Blurton finally got a good pill draw and he used it to score his first win of 2017, taking the Sprint Series of Nebraska victory last Thursday at U.S. 30 Speedway.
"I'm so relieved we got our first win," he said. "Most of it came down to a good pill draw. We had the son of the guy (Jason Martin) who would finish second in the feature draw the pill and he got the No. 35 for the heat. The way our drawing has been going this year, that is by far the lowest number we've drawn and the best we've started in a heat race. We started third and finished third in the heat race because we missed the setup a little bit. Luckily, that locked us into the redraw."
Blurton drew the No. 2 pill for the feature, putting him to the outside of the front row.
"The last time we raced at U.S. 30 we ran second so we had a basic idea of the setup," he said. "We brought a new kid to help us. Kade Hagans has a ton of knowledge. He has helped us here and there, but we have brought him on for the season and I'm excited."
On the start of the feature Blurton dropped to third, but a caution put him back to second. On the restart he blasted to the top and took the lead.
"A few laps later I figured the track was going to be taking rubber pretty soon so I kept peeking off of turn two to see if anyone was coming under me," he said. "One time I saw somebody so I figured I'd better get to the bottom. I got down to the bottom and just held on there. We had a restart with about three laps to go and that actually helped me because the car was getting tight. The yellow cooled my tires off a little bit and I just took it home from there."
The win was not only a shot in the arm for the team's confidence, but helped put Blurton back in the hunt for the SSN and the RaceSaver IMCA National Championship titles. He is now tied for eighth in the SSN championship standings.
"We didn't get off to a very good start, but we're turning it around now," he said. "We're looking forward to getting back to Eagle Raceway next weekend to try for a win there. We were fast there the last time we went. Just mistakes by the driver cost us. The last weekly show there we finished sixth."
Blurton is scheduled to tackle the high-banked Eagle Raceway this Saturday.
QUICK RESULTS –
April 27 – U.S. 30 Speedway in Columbus, Neb. – Heat race: 3 (3); Feature: 1 (2).
SEASON STATS –
5 races, 1 win, 1 top five, 2 top 10s, 4 top 15s, 5 top 20s
UP NEXT –
Saturday at Eagle Raceway in Eagle, Neb.
MEDIA LINKS –
Website: http://www.ZachBlurton.com
Twitter: https://twitter.com/ZachBlurton
Facebook: https://www.facebook.com/ZachBlurtonRacing
APPAREL –
Visit Blurton's Facebook page at https://www.facebook.com/ZachBlurtonRacing for more information.
RACING OPPORTUNITIES –
Blurton is seeking additional racing opportunities and is willing to travel. To learn more information, contact Blurton at 620-393-5249 or ZachBlurton@gmail.com.
SPONSOR SPOTLIGHT – Wheat State Roofing
Wheat State Roofing, which is located in Hutchinson, Kan., is a locally owned and operated contracting company that handles roofing, siding, windows and gutters.
"I'm so glad to have Wheat State Roofing as part of our team," Blurton said. "I'm thankful for their support and all they do to help our team."
Blurton would also like to thank Midwest Ag Professionals Inc., Wheat State Roofing, Ti22 Performance, Phillips Chiropractic & Physical Therapy Center, Younker Brother Farms, Jet-Hot Coatings, Randy Patterson Welding, Outlaw Wings, Billinger Repair Shop, Park Liquor, Rob's Fun Center, Tornado Racing Engines and Rod End Supply for their continued support.
INSIDE LINE PROMOTIONS –
Inside Line Promotions specializes in affordable public relations and media management for motor sports drivers, teams, sponsors, tracks, series, events, organizations and manufacturers. ILP Founder Shawn Miller leverages professional journalism with new media technologies and social networking to improve your exposure and the return on investment for your sponsors.
To meet the media relations needs of your program by joining Team ILP, contact Shawn at 541-510-3663 or Shawn@InsideLinePromotions.com. For more information on Inside Line Promotions, visit http://www.InsideLinePromotions.com.
---
Article Credit: Inside Line Promotions
Submitted By: Shawn Miller
Back to News